2nd Story

A Miss Rosie Quilt Club piecing extravaganza. It is 79" square finished size. This quilt uses a sampling of star blocks; an assortment of fabrics in four different colors - which can be changed to suit your favorite season.



Out of Stock
Afternoon Delight

Wall/Lap 50in x 50in, Queen 83in x 110in, King 107in x 107in



Out of Stock
Alien Invasion

Easy strip piecing assures you that this project will not become an UFO. Finished Size:65" X 83".


SALE

$ 8.50 $ 4.25
Quantity:






All Star Log Cabin

30 inch by 30 inch wall hanging from The Country Threads.It is an intermediate pattern and great scrappy. Intermediate means basic quilt skills are assumed.


SALE

$ 8.00 $ 4.00
Quantity:






Alma's Quilt

A Minick & Simpson quilt that finishes at 74" x 90"


SALE

$ 9.00 $ 4.50
Quantity:






Ambrosia

Pattern designed by Doreen Speckmann, 75" x 96"


SALE

$ 9.00 $ 4.50
Quantity:






Baby Squares Squared

Not your ordinary baby quilt by AARDVARK QUILTS. Chenille offers BABY a textural adventure.


SALE

$ 9.00 $ 4.50
Quantity:






Bearly Awake

A Daisy and Dell design. It is 51 inch square and perfect for the new baby. Sure to make them smile.


SALE

$ 10.50 $ 5.25
Quantity:






Bedy Bye Dolly

Thsi is Bananafana. Fresh sewing with a touch of whimsy.


SALE

$ 9.00 $ 4.50
Quantity:






Bennington - Schnibbles

You won't have to retreat to Bennington, Kansas to have these wonderful little bowties, although it would be a nice journey. Miss Rosie's Quilt Company with their designer Carrie Nelson takes you there. A couple of plain squares. a snowball corner or tw



Out of Stock
Bento Box (Original pattern)

45' x 45" Quilt; 60" square (lap) or 90" x 105" bed quilt. Fat Quarter friendly. This is the original pattern with a pink and green cover.



Out of Stock
Big Blocks for Baby

Easy One Block for Baby. 42 inch square. A Cotton Way pattern. Also a great tabletopper.


SALE

$ 8.50 $ 4.25
Quantity:






Birds and Bees

A six month BOM in each packet. Done by Quilt Soup. 59" square.


SALE

$ 36.00 $ 18.00
Quantity:






Bittersweet Road

A nostalgic quilt for use with a charm pacl or your own five inch squares. Includes directions for two sizes.


SALE

$ 9.00 $ 4.50
Quantity:






Blessings Baskets

74in x 74in A pattern designed by Jan Patek. It combines beautiful pieced rail fences and applique baskets with winding vines and stars.


SALE

$ 9.00 $ 4.50
Quantity:






Bloom

Bloom is a pattern designed by Thimble Blossom and completes as a quilt 50" x 54" This simple quilt is the perfect mix of two of the designers favorite things: dots and flowers in bloom. This pattern is also available as a kit.



Out of Stock
Boston Cream Pie

Quilt Size 69" x 83" Blcok size 10-1/2" square Pattern designed by Mary's Cottage Quilts which prides itself on "Quilt Patterns for Generations."


SALE

$ 8.00 $ 4.00
Quantity:






Bouillabaisse

92" x 72" You can use as many or as few fabrics as you choose. The patterns used brights but you can use anything. It is designed by "Pie in the Sky Quilts." You can make a smaller quilt using 9 blocks inslead of 12 and end up with a 76' x 56" quilt.



Out of Stock
Broken Arrow

Secondary design created with one block. 50" x 60" By Open Gate Quilts.


SALE

$ 8.00 $ 4.00
Quantity:






Bubbles on Blocks

Quilts you make in an afternoon or two by Threaded Pear Studio. 54" x 62" Can be personalized quite easily.


SALE

$ 9.00 $ 4.50
Quantity:






Cabin on the Shore

Minick and Simpson design. The quilt is 75" x 75" Beautiful in red, white and blue. Wonderful memory of life on the shore.



Out of Stock
Cartwheels

Small: 44in x 66in, Medium: 66in x 88in & Large: 88inx 110in Tula Pink Pattern Company


SALE

$ 9.00 $ 4.50
Quantity:






Celebrate

Quilt by Debbie Bowles of Maple Island Quilts. Traditionally pieced then cut down on a tilt and made into this 16" block.


SALE

$ 8.50 $ 4.25
Quantity:






Centennial Sampler c 1876

47" x 47" This is pattern by Reproduction Patterns and Karen Witt.


SALE

$ 12.00 $ 6.00
Quantity:






Center Stage - Schnibbles

Vendor: Miss Rosie's Quilt Co Designer: Nelson, Carrie A Lone Star done with charm squares-----She just wanted to see if it could be done!!!!! It is a 38" square.



Out of Stock
Chain of Events

Learn two new and interesting techniques to make two old favorite blocks. A Far-Flung Quilts pattern. 42" x 58" including a 3" border.


SALE

$ 8.00 $ 5.00
Quantity:






Checkmate

Pieces from my Heart by Sandy Gervais.. Finished size 75" X 84".


SALE

$ 8.00 $ 4.00
Quantity:






Chelsea's Boutique

71" x 71" Moda University Pattern by Threads of Time, Australia


SALE

$ 8.00 $ 4.00
Quantity:






Chocolat Fantasy

63.5 x 75.5 is Fat Quarter friendly.


SALE

$ 15.00 $ 8.00
Quantity:






Civil War Tribute

This is the 150th Anniversary Civil War Tribute Quilt designed by Homestead Hearth.. The pattern set consists of 12 patterns. Each pattern is named after a famous battle and comes with a history of the each battle.



Out of Stock
Common Ground

This scrap quilt is made up of many fabrics. We had the feeling that the "common ground" among quilters is their stash...and their hope that they might someday use it. This small quilt, measuring 28" x 32" will get you started toward that goal.


SALE

$ 8.00 $ 4.00
Quantity:






Cottage Tapestry

A charming cottage quilt with a vintage feel. Quick and simple to make with or without the applique rose.


SALE

$ 8.50 $ 4.25
Quantity:






Creme Fraiche

This is Fig Tree design by Joanna Figueroa. Finished size 74" x 79"


SALE

$ 12.00 $ 6.00
Quantity:






Daisy Chain

A Jackie Robinson - Animas Quilts Publishing


SALE

$ 9.00 $ 4.50
Quantity: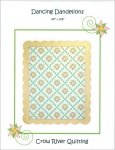 Dancing Dandelions

This is 88" x 108" This is an easy quick quilt to make with just two different blocks - a chain and a star. Dancing Dandelions is an easy pieced quilt using the partial seam method for the stars. Pattern includes good instructions on completing the part


SALE

$ 8.00 $ 4.00
Quantity:






Dandelion Bloom

64 1/2" x 64 1/2" Joanna is constantly inspired by the very traditional 4-block quilts from centuries past. Often large chunky applique shapes were combined with simple block piecing as well as pieced borders for stunning results. Fig Tree Quilts


SALE

$ 9.00 $ 4.50
Quantity:






Deck the Halls

Make some crazy cuts, sew them into rows and put together this beautiful quilt. Great rewards from some simple techniques make DECK THE HALLS an instant classic.


SALE

$ 8.00 $ 4.00
Quantity:






Diamond Diva

Striped pieced Argyles with raw edge appliqued Center Diamonds. Heather Mulder Peterson, Anka's Treasures designer, gives you three size options.


SALE

$ 10.00 $ 5.00
Quantity: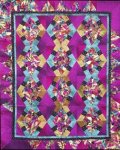 Diamond Maze

Quilts can be made in four different sizes. Uses any size X-block rulers. Bright color and a lively print create a maze of brillant diamonds.


SALE

$ 8.00 $ 4.00
Quantity:






Do-Si-Do

Do-Si-Do is the first in the Straight to the Point Series. Do-Si-Do uses a simple square block with fabric color reversals. One version is dark in the middle and light on outer edges and the other is light in the middle and dark on the outer edges. Blocks


SALE

$ 9.00 $ 4.50
Quantity: