Out of Stock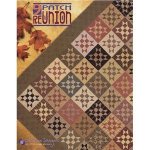 9 Patch Reunion

A Terry Atkinson Book. Book has recipes and quilt patterns suitable for reunion quilts.


SALE

$ 19.00 $ 11.00
Quantity:






A Little Porch Time: Quilts with a Twist of Southern Hospitality

Lynda presents a large quilt and 4 smaller projects that remind her of her favorite things, many of which she enjoys as she sits on her porch. She has appliqued the leaky watering bucket that now holds beautiful flowers. By Lynda Hall


SALE

$ 23.95 $ 18.00
Quantity:






Across the Wide Missouri: A Quilt Reflecting Life on the Frontier *

This book tells the story of several woman who traveled west. The quilt projects depict thier trials and travels.


SALE

$ 26.95 $ 19.00
Quantity: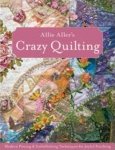 Allie's Aller's Crazy Quilting

Allie shows you how to make crazy quilting more contemporary with an array of easy-to-master techniques. By Allie Aller



Out of Stock
Amazing Nickle Quilts

11 Designs from 5-inch Squares or as we know them charm squares. Pat Speth


SALE

$ 21.95 $ 11.50
Quantity:






Applique Jubilee

Applique...the McCall's way! Quilters will find favorites old and new in this stunning assortment of projects, the best of McCall's Quilting.


SALE

$ 26.95 $ 14.00
Quantity:






Applique Outside The Lines - Softcover

A Piece O'Cake pattern that share free-style piecing and applique techniques.


SALE

$ 27.95 $ 20.00
Quantity:






Aviary

Projects include a quilt, wall art and pillow by Jeri Kelly


SALE

$ 24.00 $ 12.00
Quantity:






Buttons and Blooms

The latest in the Whimicals book line. A great book to learn how to use paintsticks to enhance your quilts.


SALE

$ 20.00 $ 14.00
Quantity:






Cabin Fever

This book from Whimsicals featured a winter theme.


SALE

$ 18.00 $ 14.00
Quantity:






Charm School Too

If you love Charm Packs, you'll love this book filled with lots of projects (7) Quilt Projects - (3) of which make up into larger quilts -and (5) Pillow Projects Quilted Quickies



Out of Stock
Christmas Favorites by Nancy Halvorsen

Celebrate the most wonderful time of the year. This book has a Block-of-the-Month quilt commemorating some of the author's favorite things for this special season. All of the blocks can be used to make pillows, mini quilts or other projects.



Out of Stock
Christmas Punch

This is a Thimbleberries Christmas pattern book that is chocked full of great gift and quilt patterns.


SALE

$ 20.00 $ 10.00
Quantity:






City Quilts

City Quilts features a contemporary approach to quilting. Fast, fun and beginner friendly.


SALE

$ 23.95 $ 18.00
Quantity:






Comfort Zone: More Primitive Projects for You and Your Home

Comfort Zone is a wonderful inspiration of piecing and applique by Maggie Bonanomi.


SALE

$ 26.95 $ 20.00
Quantity:






Cool Girls Quilt

15 Fresh, Fun and Funky Projects


SALE

$ 24.95 $ 13.00
Quantity:






Cottage Cabin

Cozy Quilts and Cross Stitch Projects by Dawn Heese


SALE

$ 22.95 $ 13.50
Quantity:






Cottage Charm: Cozy Quilts and Cross Stitch Projects

Dawn Heese shares her whimsical approach to the traditional quilts.


SALE

$ 22.95 $ 17.00
Quantity:






Crazy at Home

This is the second book on the same subject by JoAnn Mullaly. There are 15 projects for your home if you adore Folk Art as much as we do. It is more project orientated but she continues to spiral bound it for your convenience.



Out of Stock
Crazy Quilts

By Cindy Brick. Forward by Nancy Kirk, Crazy Quilt Society founder. Hardback.


Price

$ 29.95

Quantity:






Crazy Snowdays

This book explains the Buggy Barn stacking and cutting technique - one fat quarter equals one block. Four great quilts are in this book - Warm Hands, Star Bright, Let It Snow, and Crazy Flakes. SOFTCOVER


SALE

$ 24.00 $ 19.00
Quantity:






Embellishing with Felted Wool

16 small, cozy wool projects inspired by penny rugs and decorated with charming embellishments. Mary Stori is the author


SALE

$ 24.99 $ 13.00
Quantity:






Fab Five

First, choose your quilt, then gather your fabrics, either 8 fat quarters or up to 16 stash pieces 10inx 18in. Make your cuts, sew it up, add the raw edge appliques and you are done. So fast, so fun, and with a size of 50in x 60in for the finished quilt,


SALE

$ 18.50 $ 12.50
Quantity:






Fast & Furious Quilting as You Go

This book has 17 projects in all shapes and sizes that are all done with the quilt as you go method so they are super fast. The runner on the cover is called Afternoon Snack. Other projects in the book include baby quilts, table runners, placemats, coaste



Out of Stock
Fat Quarter Friendly

This book features a collection of our most popular Fat Quarter Friendly and Fat Eighth Friendly quilts from the magazine. From Fons and Porter's For the Love of Quilting Magazine.



Out of Stock
French Braid Transformation

12 new projects for both beginner and experienced quilters. Enjoy simple, straight piecing while using your favorite fat quarters and scraps. These designs look way more difficult to sew than they really are! Jane Hardy Miller, author



Out of Stock
Frightfully Crazy - Book

A Buggy Barn original.



Out of Stock
Gathering of Crows

A Lynette Anderson Design book. She is an Australian designer of stitching patterns.


SALE

$ 27.00 $ 15.00
Quantity:






Get Your Stitch on Route 66

Quilts from the Mother Road. Great embroidery patterns and significant pieced blocks to make a great quilt.


SALE

$ 26.95 $ 14.00
Quantity: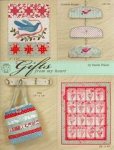 Gifts from my Heart

A Liberty Start pattern booklet by Renee Plains



Out of Stock
Hand Quilting

Helping quilters master the delicate art of hand quilting, this updated reference features five new practice pieces and three of the most popular designs from the original book. Essential in a quilter's library, this reference will help beginners and more


SALE

$ 9.95 $ 6.00
Quantity:






Jingle All the Way by Nancy Halvorsen

Join Santa in sharing the joy of Christmas with these fun projects for the merriest of seasons. Includes unique decorative screens, wall ornaments, and quilts, gift wrap bags, a bell pull and much more.


SALE

$ 19.50 $ 11.00
Quantity:






Kansas City Scrapbook

Join us for a Kansas City Quilt Shop tour & experience the heart of the midwest. Enjoy some fun quilts & sample our favorite KC barbecue recipes. by Atkinson Designs


SALE

$ 19.95 $ 10.50
Quantity:






Layer 'em Up

Cozy Quilt Design by Sharyn Craig Layer Cake friendly



Out of Stock
Lessons from MaMa

Terry's clear, easy to follow instructions bring quilt lovers back to her designs again and again. These 12 easy to follow lessons will improve and expand your range of quilting techniques. Once you've mastered these new techniques, you will confidently m



Out of Stock
Let The Good Times Roll

10 projects designed for 2 1/2" Jelly Roll strips. Fat quarter options are provided. Anka's Treaures by Heather Mulder Peterson. This has the pattern "It's A Bling Thing."


SALE

$ 15.00 $ 10.00
Quantity:






Let Them Eat Cake

A sweet collection of 11 confectionery-themed delights, quilts, pincushions, and apron and more.


SALE

$ 20.00 $ 11.00
Quantity: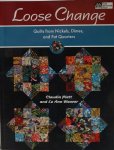 Loose Change

5", 10" and fat quarters! The language of the quilter. But exactly what can you do with these size pieces of fabric? With the book LOOSE CHANGE and some time, you can make GREAT quilts. by Claudia Plett and LeAnn Weaver



Out of Stock
Meadowsweet HOME by Need'l Lovve

Whether redecorating a favorite room or an entire home, we all look for special touches that make our homes uniquely our own. Define the look and feel of your home with over a dozen projects. Projects include lap to full size quilts, punchneedle, wool app


SALE

$ 25.00 $ 16.00
Quantity: