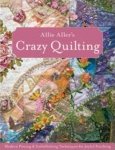 Allie's Aller's Crazy Quilting

Allie shows you how to make crazy quilting more contemporary with an array of easy-to-master techniques. By Allie Aller



Out of Stock
Crazy at Home

This is the second book on the same subject by JoAnn Mullaly. There are 15 projects for your home if you adore Folk Art as much as we do. It is more project orientated but she continues to spiral bound it for your convenience.


SALE

$ 24.00 $ 18.00
Quantity:






Going Crazy

A Brief introduction to the art of crazy quilting. It is a great beginners handbook with the following information: History and Project Books; How to piece a Crazy block; embroidery patterns for center motifs; and stitch guides. It is a great pamphlet t


SALE

$ 6.00 $ 4.50
Quantity:






Motifs for Crazy Quilting

Book by J. Marsha Michler - Techniques for embroidering and embellishing crazy quilts. Handworked motifs and patterns of patch interiors are at the heart of a beautiful crazy quilt, and here's the first definitive book on these surface embellishments.


SALE

$ 21.95 $ 16.25
Quantity:






The Crazy Quilt Handbook

By Judith Baker Montano Revised 2nd Edition


SALE

$ 19.95 $ 14.75
Quantity:






Wool Crazy

This is a book written by JoAnn Mullaly. It is spiral bound so it makes easier to work with as it lies flat. This a book for folk art lovers and was inspired by the Shelburne Museum in Burlington, Vermont. This is a guide to make your "OWN" quilt. It i



Out of Stock