Happy Holidays from The JaM Patch
Hello to all,

We wish you the Happiest of Holidays! May the new year bring you health and happiness.

We hope to see you in the new year at the JaM Patch Fabric Bazaar on January 7th and 8th, Saturday and Sunday at 10am to 4pm at the Hampton Inn just south of the Roosevelt Bridge from Stuart and just north of the Roosevelt Bridge if coming from Jensen Beach.

As the end of the year draws near we are enjoying prepping for our family celebrations. (It is amazing the things you can get done while in your pj's. Ha Ha!) We are each sewing, baking and hosting gatherings without as much stress. Needless to say, we are still enjoying our retirement. However, I wonder how I got everything done when I was working. Gifts still have to be wrapped and we are baking Holiday brownies as I write.

Have you gotten all your sewing gifts completed? We haven't finished last year's list yet but we forge onward. I actually have quilted gifts to get in the mail today; 10 days early. If you are still searching for a gift for a sewing friend don't forget to check out our internet shoppe at www.jampatch.com
There is still time to shop with us. We can deliver to those of you in the area at the various club meetings we attend. We are loving getting to go to Crazy Quilters, Thimblebuddies and Martin County Quilters. Margy will be Assistant Treasurer and I am their new Program Chair.

It would not be the holidays without Margy's Christmas Crack. (I know- it sounds bad but it is soooo good. Margy's neighbors named it that because once you start to munch you must have more. It is quite addictive.)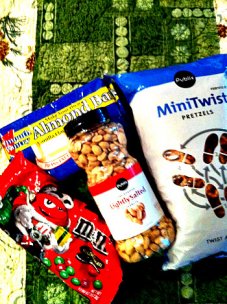 1 pkg. (24 oz) Almond Bark
1 pkg (12.6 oz) Holiday M&Ms
1 bag (16 oz) pretzels
1 jar (16 oz) peanuts

Simply melt the Bark in a large glass container in the microwave, about 2 minutes. Be sure to stir a few times for the Bark to melt evenly. Stir in the M&Ms, the peanuts and the preztels. Yep, this is messy. Spread on waxed paper to cool. Break apart and store in an air tight container.
You can easily modify this recipe to include any of your favorites. Enjoy!
!

We do sincerely wish you all the most wonderful holiday season with family and friends. We share in the joy of the military families who will have their servicemen or women home for the holidays. I can hardly watch without tears in my eyes. What a great Christmas for them! We do live in a wonderful country and thank them from the bottom of our hearts for their contribution to keep it that way. We especially wish for a prosperous and healthy new year for all of you and yours. See ya next year!!!!

Our very best,
Joey and Margy

The JaM Patch
www.jampatch.com