JaM Patch News -- An Invitation to Baltimore Christmas and A Charmed Life
You are cordially invited to participate in two exciting Block of the Month Programs

Baltimore Christmas
and
A Charmed Life

These programs are designed to assist you in the completion of these
beautiful and unique quilts.
Please read on or check out the information on
our website:

www.jampatch.com/news-flashes.htm
Baltimore Christmas
A BOM designed for the Christmas Lover in us all.


Baltimore Album quilts were made in Baltimore between 1846 and 1852.
Those beautiful quilts inspire me to create my Baltimore style quilt.
When I think of Christmas I think of the Thomas Nast drawing of Santa.
He "invented" the image popularly recognized as Santa Claus today.
His Santa Claus was published for the 1862 Christmas season Harper's Weekly cover.
Mr. Nash and his drawings were the best recruiter for the union side
stated by President Abe Lincoln.
It was both of these elements that inspired me to make my Baltimore Christmas quilt.
The 24" center medallion Santa block is surrounded by twelve 12" album style blocks
with holly and berry swag applique border. 70" x 70."


The store sample is
raw-edge applique using a fusible web. The fabric provided in the JaM Patch
kits can be done in this fashion or needle-turned applique. When you
purchase the patterns and kit from the JaM Patch you are eligible for the
FREE classes that will be run twice a month for this quilt.
If you have purchased your patterns and fabric elsewhere,
you can still attend for a fee of $10.00 per class.
We want to have this quilt done for Christmas 2011.

Class Schedule
All Classes are from 9am to 12noon


Thursday, October 21st Introduction and Block 1
Thursday, October 28th Block 2 and 3
Tuesday, November 9th Blocks 4 and 5
Tuesday, November 23rd Blocks 6 and 7
Tuesday, December 7th Blocks 8 and 9
Have a wonderful Holiday Season, we will meet back in January 2011
Tuesday, January 11th Blocks 10 and 11
Tuesday, January 25th Block 12 and Catch Up
Tuesday, February 8th Block 13

The classes are set up so you can enter at anytime and begin the basics and start where you want.
We will be doing fusing work so you can come without your sewing machine and work on the fusing
only or hand applique. Basic hand applique techniques will be shared.
Cost of the kits is as follows:
Patterns (All 13) $ 78.00
Fabric Kits includes background $135.75


The complete kit is $ 213.75

Should you wish to purchase it monthly, we will need your first deposit of $85.00 for
you background and your first month pattern. Each block will then cost $ 15.00. There
is additional cost for the program when purchasing monthly.



Complete Button Set $17.75

Block 1 Block 2 Block 3 Block 4 Block 5

Block 6 Block 7 Block 8 Block 9 Block 10

Center Medallion Block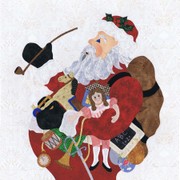 Registration Form

Name_______________________________________________
email address___________________________
Phone No.___________________________

Complete Kit _________________Paid Received
Monthly $85.00 1st month payment and $15.00 per monthly kit.

______________________Paid Received



*********************************************************************************************************



A Special Block of the Month Quilt
by Robyn Pandolph
featuring the fabric from Rue Saint Germain
76" x 80"


It is here at the JaM Patch!!!!!!!
Please see information and sign-up sheet at the end of section on "A Charmed Life."
The fabrics are wonderful and remind you of the wonderful things and family you love and the wonderful rips that have dotted your life. We all have and now it is returning a charm bracelet where memories were kept and
special moments dangled from yout wrist.
Here is a link to the fabric swatches at RJR Fabrics.
www.rjrfabrics.com/fabrics/collection.cfm

The center is the Eiffle Tower!!!! What a charmed life to remember Paris!!!!

And here it is! The picture doesn't do it justice.




The JaM Patch presents

Robyn Pandolph's

"A Charmed Life"

We have kitted this special Block of the Month Program to assist you in completion of this quilt top.

The fabrics for each block have been individually cut and are in the corresponding pattern folder. We have reduced the amounts suggested if possible to keep the cost of the fabric kit to a minimum. The yardage of backgrounds is whole and to be cut as directed for the 12 blocks. Block 13 is cut separately.

All the block background have been done "reverse appliqué" with the blue dot cut away from the floral fabric. This cut out section is then used throughout the appliqués. Save all your cut outs!

Our sample has been completed with fusible appliqué. We used Steam a Seam Lite. When the pieces have been fused down they are then stitched down to assure they are there to stay. The stitching also enhances the designs. We chose to stitch the appliqués down before the blocks have been put together.



Pattern: "A Charmed Life" $81.00



Fabric Kit: $136.00 (does not include binding and backing)



We will conduct workshops for completion for $10 each session. They are FREE if you have purchased youPar kit and patterns from The JaM Patch. Mondays 10 – 2



October 11th Blocks 1 – 3 November 15th Blocks 4 – 6 December 13th Blocks 7 – 9

January 10th Blocks 10 – 12 February 14th Block 13 March 14th Settings



If you choose to purchase your kits and patterns per month the prices are as follows:

Block 1 – 3 $40
Blocks 4 – 6 $ 25
Blocks 7 – 9 $25

Blocks 10 – 12 $25
Block 13 $51
Settings $60

**************************************************************************************
Registration Form


Name___________________________________________
e-mail address:_________________________
Phone no._______________________________________
Patterns $81.00
Fabric $136.00

Complete Kit
__________________
Paid Received
Monthly
________________
Paid Month received


Joey and Margy
The JaM Patch
932 SE Central Parkway
Stuart, Florida 34994
(772)283-9889
www.jampatch.com