JaM Patch Invitation --- It's Raining Men...Snowmen
You are cordially invited to a
Cool Weekend at the JaM Patch


"It's Raining Men....Snowmen"
August 6th, 7th and 8th, 2010
Friday, 9am - 5pm
Saturday, 9am - 5pm
Sunday, 10am - 4pm

Fee: $ 95.00
This will be all "day" classes. There will be two projects with kits available to do and if time allows a small project on Sunday for you speed demons. Everyone will receive the pattern and special instructions for the Sunday project as well as the background fabric and pattern on Transfer-eze. The patterns are included in your class fee, as well as

The projects are done using the raw edge method of appliquéing and embroidery. The fee for the three full days is $ 95.00.

In an effort to hold down costs, only three continental breakfasts, snacks and drinks are included in your class fee. Lunch can be brought or purchased, it is your choice. There will be an hour lunch break each day.

Here are pictures of the projects and samples are on display in the Classroom Annex.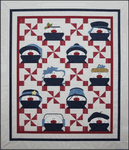 Snow Days...Sew Days
Fabric Kit $ 67.50



Let's Build A Snowman
Fabric Kit $ 95.00

Stop by to see the embroidery piece!!!!!!!!!




We hope you can join us!!!!